Academic and residential city Narashino
City Overview
Narashino is a compact city of approximately 21km2 facing Tokyo Bay and located in the western part of Chiba prefecture at less than 30km from Tokyo. Under the "Academic and Residential City Charter", Narashino City is promoting academic and residential urban development with a focus on education.
In the "City Data Pack" 2015 published by Toyo Keizai, Narashino has been designated as the 5th best city in Chiba prefecture for the quality of life. Specifically, Narashino has been designated 2nd for convenience and 5th for comfort.
Tsudanuma area in the city has also been chosen 2nd in the "Ranking 2014 of places where I would like to live" made by SUUMO.
Location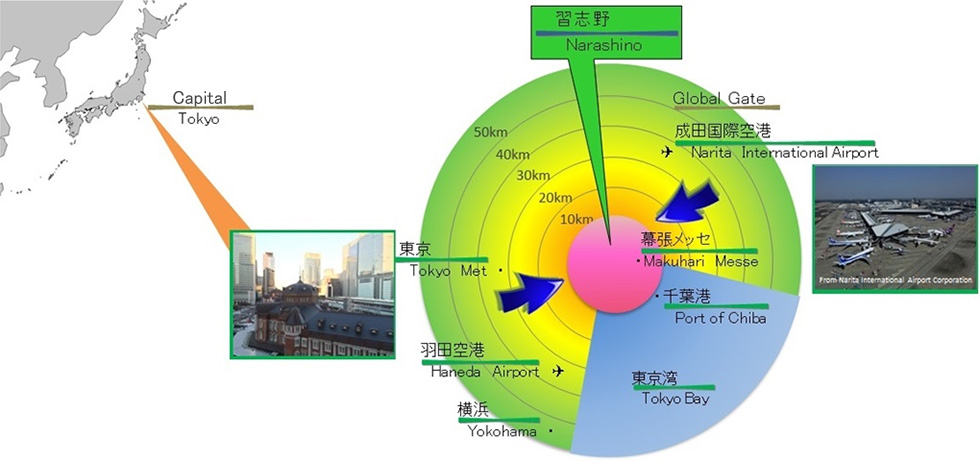 Access


Tokyo Station -> JR Tsudanuma Station (27 min)
(with Sobu Line Rapid)
Tokyo Station -> Shin-Narashino Station (32 min)
(with Keiyo Line)
Ueno Station -> Keisei Tsudanuma Station (33 min)
(with Keisei Main Line Limited Express)
Haneda Airport -> JR Tsudanuma Station (66 min)
(with Keikyu Airport Line/Sobu Line Rapid)
Narita Airport -> Keisei Tsudanuma Station (42 min)
(with Keisei Main Line Limited Express)

Haneda Airport -> Yatsu Funabashi Interchange (within 30 min)
(with Shuto Expressway/Higashi-Kanto Expressway)
Narita Airport -> Hanawa Interchange (within 30 min)
(with Higashi-Kanto Expressway/Keiyo Road)
Haneda Airport -> Tsudanuma Station (30 min)
(with Airport Limousine bus)
Population statistics

Residential Environment
Life (living environment)

 Narashino City, accessible within 30 minutes from Tokyo by car, benefits from a rich transportation network that includes expressways, such as Keiyo Road and Higashi-Kanto Expressway, and national highways, such as National Route 14 and 357.
The City is also easily accessible by train with 5 lines (7 stations), including JR and Keisei lines, crossing the city center. From anywhere inside Narashino, people have to walk no more than 2km to find a station.
 Everything has been arranged to facilitate shopping, with not only large shopping malls gathering lots of people and activities near JR Tsudanuma Station, Shin-Keisei Line Shin-Tsudanuma Station and JR Shin-Narashino Station, but also numerous commercial streets rooted in local community in the City.

Welfare

 Regarding elderly care, Narashino City is building the "Narashino-shi Elderly Protection Network" in collaboration with private companies so that senior citizens can live at home at ease in the area.
 The City is also carrying out an initiative to allow senior citizens with dementia to live in their familiar home town with a sense of security. This initiative intended to assist people with dementia and their family includes training of dementia supporters (helpers specialized in cognitive impairment) and a system that registers organizations with a certain number of such supporters as "Organizations Acting against Dementia" and publishes a list of these organizations.

Childcare support

 Narashino City has implemented various childcare support initiatives such as its own maternal and child health "neuvola" system for continuous support from pregnancy and childbirth to childcare, "Child Centers" and "Kirakko Rooms" (bright child rooms) to help parents and children meet and communicate together, and "Family Support Centers" that locally support childcare. Through these initiatives, the City promotes safe and reliable childcare in the area. In addition, the City provides child education and childcare that help children grow up healthy by building an environment that enable parents to leave their children without worry to kodomoens (certified childcare facilities), nursery schools and kindergartens according to each family's needs.

Natural environment

 Narashino is the city where untouched nature still widely remains and its citizens value and protect such natural environment.
 People can see the "Yatsu Rose Garden" containing 7,500 roses from 800 species and "Yatsu-Higata" tidal flat that has been listed in the Ramsar Convention since 1993.
 The "Yatsu-Higata Nature Observation Center" was built in 1994 to observe and study this area. It also serves at a base for protection and preservation activities carried out together with citizens and organizations in order to communicate widely about the importance of the area and to pass Yatsu-Higata tidal flat down to future generations.

Culture

The City is also known as "City of Music, Narashino" thanks to the excellent results achieved in various music competitions by concert bands of Narashino elementary schools, junior high schools and senior high schools. The Narashino Bunka Hall holds the "Narashino Daiku Ensokai (concert of Ninth Symphony)" musical event at the end of every year.
In the past, German prisoners of war were held in a prison in Higashi-Narashino. Some of those prisoners were butchers, who taught how to make hams and sausages to Japanese people. This skill was then taught to food product makers throughout Japan through lectures organized by the then Ministry of Agriculture and Commerce. Since that time, Narashino has been also known as the "birthplace of Japanese sausages".

Sports

Narashino City Senior High School boasts strong sports club activities, including the hardball baseball team that once won the National High School Baseball Championship, the volleyball club that consecutively qualified for the All Japan High School Volleyball Championship, the boxing club that produced a world champion, the soccer club that produced lots of J.League professionals and the world-class gymnastics club, among others.
The American football corporate team based in Narashino, the Obic Seagulls, is a strong team that won seven times the Rice Bowl national championship, which designates the best American football team in Japan. The Narashino Akitsu Soccer Stadium (Frontier Soccer Fields) holds several matches every year.

Sightseeing (in the City)

 Narashino, which has developed as the academic and residential city of the capital region, is polishing its various resources that have been developed in the area and is taking initiatives to become a urban tourism area through exchange, following the principle of changing from a city where "it is good to live" to a city which "it is good to visit". 
 Narashino is also actively developing its relationship with other cities, such as Tuscaloosa in the United States and Brisbane in Australia.

Sightseeing (in the neighboring area)

 Lots of international tourist spots and business locations can be seen around Narashino located in the Tokyo Bay area.  
Tokyo Bay area: Tokyo Disney Resort, Yokohama Chinatown, Tokyo Big Sight, Makuhari Messe
Tokyo urban area: TOKYO SKYTREE, Akihabara, Ginza
Tradition and culture: Asakusa, Naritasan Shinshoji Temple
Museums: Tokyo Sea Life Park, Chiba Zoological Park, National Museum of Nature and Science (Ueno)

Commerce

 Commercial activities are flourishing in Narashino and surrounding locations such as Narita Airport, Chiba Port and Haneda Airport, thanks to its connection to the Japanese largest commercial exchange area (Yokohama, Haneda, Tokyo, Chiba, Narita) and to a rich transportation network.
 Narashino is connected to every part of the world to import energy resources and transportation equipment and export chemical products, automobiles, precision machinery, etc.